AITA offers one-stop shopping for your businesses' insurance requirements. Whether your needs include vehicle coverage or business plans with employee benefits, we can provide any type of insurance for your business. Browse AITAinsurance.com and find the provider that offers the perfect coverage for you.
For a quote please click on the insurance type you would like below and fill out the short form
| | |
| --- | --- |
| Life & Health Insurance | Property & Casualty Insurance |
*Not licensed in all states

Here are a few of the offerings available to you:
Individual Health Insurance
AITA Members now have access to a full range of healthcare benefits at group rates through our new partnership with Gulfstream Transportation Association. To get started call AITA at 844-464-2482. AITA will connect you with an enrollment counselor to explain the plans available to you. The plans are excellent options for you and your family and the enrollment process is easy. This is one more way that AITA is saving you money…mile after mile.
Click HERE to join!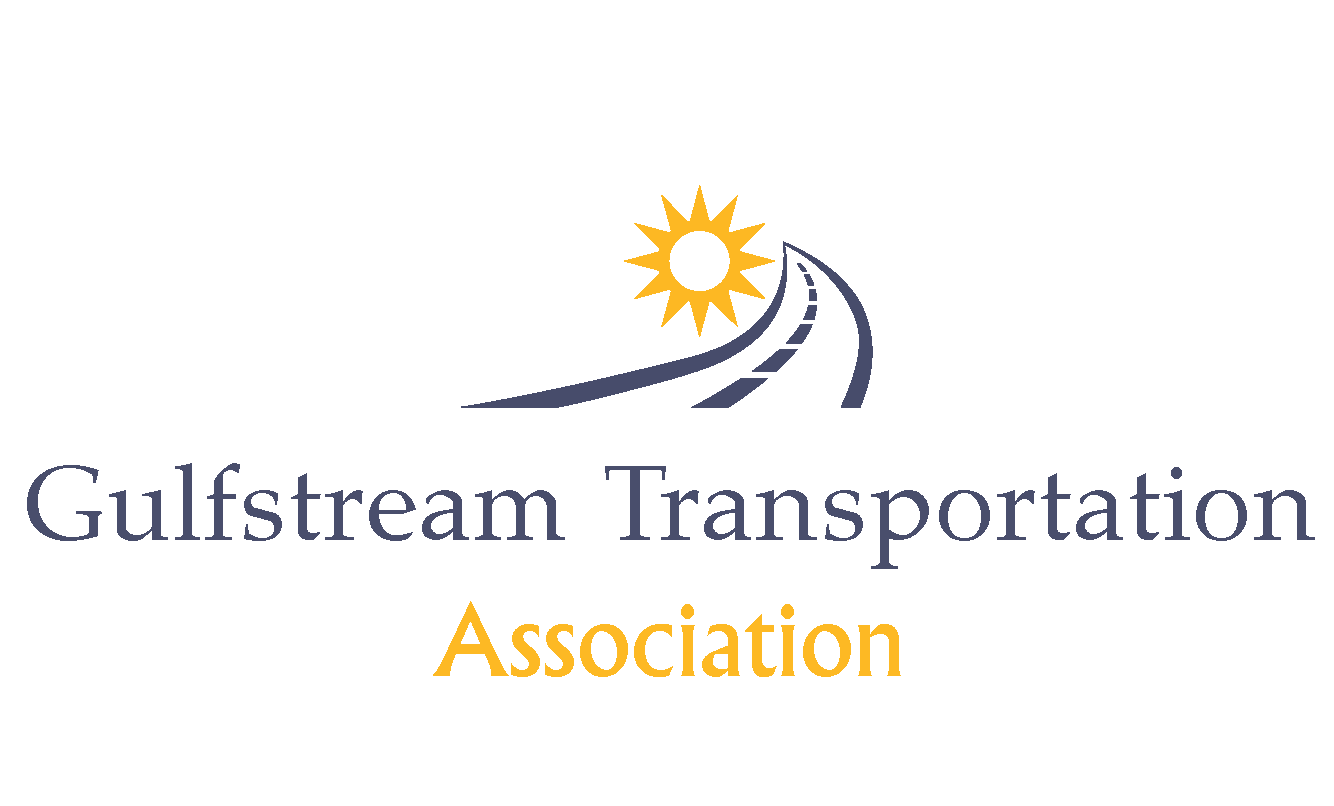 Legal Services
As a professional driver, your driving record is your most valuable asset. Traffic tickets will hurt anyone's driving record, but as a licensed commercial driver, violations and CSA points can threaten your career. Check out our vendors below that can help you keep your career intact!

Click here for more information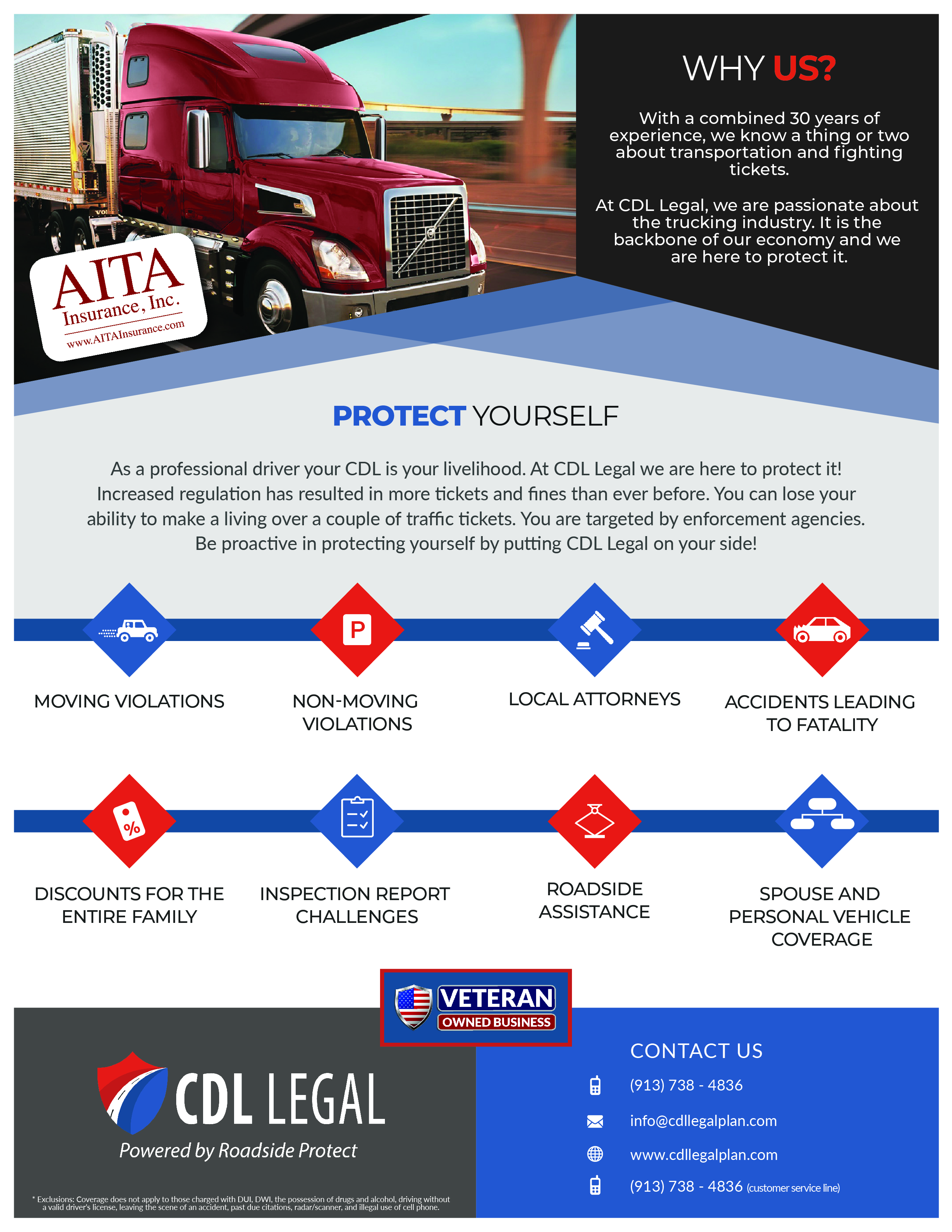 Even if you are not a member of CDL Legal yet you can still receive service on a pre-existing violation. By becoming a member, CDL Legal will provide you with a discounted attorney on any pre-existing violation. Potentially saving you hundreds of dollars. Call CDL Legal today at (913)738-4836 using promo code AITASAV.
Dental and Vision Savings Plans
When Americans think of benefits they most often think of medical, dental and vision. These core benefits are available to most people in the traditional workplace. AITA Insurance knows that Owner Operators exist in anything but a traditional work environment. Providing benefits for yourself can be a costly proposition, but it doesn't need to be. AITA Insurance offers a number of different dental and vision plans through our partners at Careington that cover everything from basic services through additional benefits like hearing and Lasik.

Take some time to discover the options available to you in this important piece of your benefits puzzle. Click on the links below to see the options available to you through AITA Insurance.
Prescription Benefits from AITA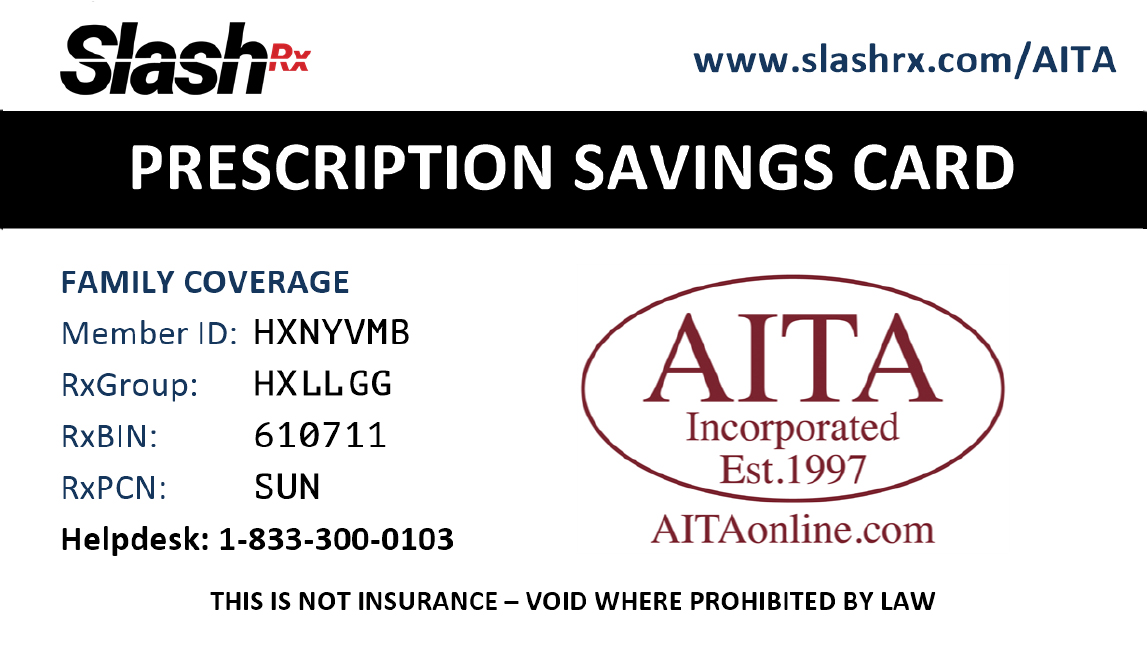 Check out the AITA pharmacy discount card through SlashRx free to our members! With health care costs continuing to rise we at AITA have been searching for ways to help our members spend less and keep more. Our AITA pharmacy discount card does just that! The card is free to sign up for and use, similar to the AITA discount card you are all familiar with. Simply follow this link: www.slashrx.com/AITA/en/Home . Print your card. Then take it with you wherever you may be when picking up prescriptions. The card is accepted at all of the major pharmacy chains throughout the country as well as many local ones, so you can use it at home or on the road. Savings vary by prescription, but can be up to 75% off the retail cost in many cases!

Do you have pets at home or even a furry friend that rides in the cab with you? If so you'll be happy to know that the AITA pharmacy discount card works for pet medications too! Present the AITA pharmacy discount card every time you fill a prescription no matter which family member is in need.

When you follow the link to www.slashrx.com/AITA/en/Home you'll also be able to search local pharmacies to find the lowest prices available through the program. The new AITA pharmacy discount card through SlashRx gives you many tools to help keep those healthcare costs down, so follow the link and sign up today!